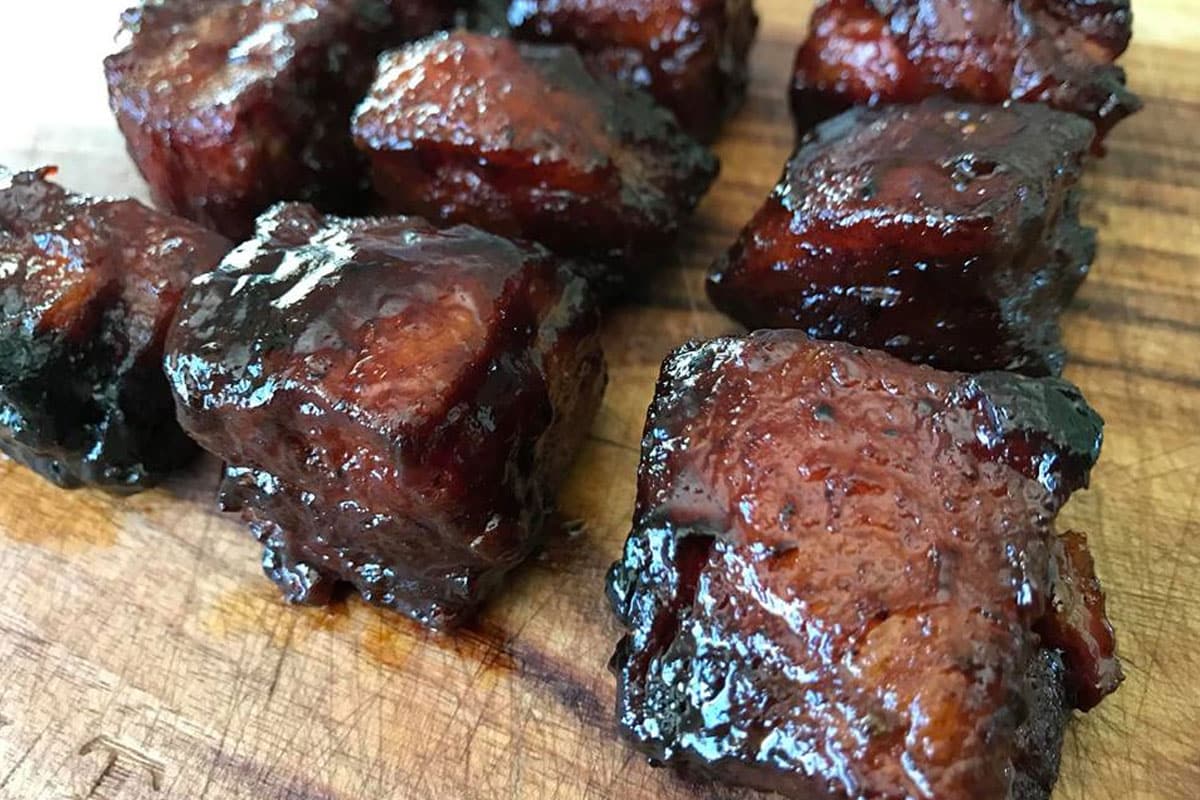 This delicious & effective recipe for Pork Belly Burnt Ends is what many people call pork candy. Combining the the right amount of time, seasoning, smoke and glaze you will be left flavour packed treat that will impress your family and friends with the best Pork Belly Burnt Ends ever.
Pork Belly Burnt Ends Ingredients
1.5kg Diced Pork Belly
Spritz bottle – 50:50 water: apple cider vinegar
BBQ sauce
60g Butter
Smoked honey 
Brown sugar
Alfoil & foil tray
Wire rack
Any fruit wood
Charcoal or briquettes
Method
Remove rind from pork belly and dice into 1 1/2″ cubes (we can also do this when you buy the pork belly) season well with BBQ rub. Put back in fridge for at least 1 hour before smoking.
Fire up your smoker aiming to set your temperature between 125°C – 135°C, add wood to create a nice even flow of smoke.
Place diced pork belly on a wire cooking rack (makes it easy to move) and pace in smoker for 2 hours uncovered, spritzing every 30 minutes.
Place died pork belly into a foil tray add in butter, brown sugar and smoked honey, cover and cook for a further 2 hours or until really tender. Make sure you mix them every 30 minutes so they do not burn and stick to the bottom of the foil tray.
Warm up your BBQ sauce on stove top, and dunk each piece insuring you have nice even coat then place back on your wire rack.
Put back in smoker for 10 minutes to set your glaze. Serve & enjoy your pork belly burnt ends.
Tips
The same recipe can be used for gas smokers, pallet smokers and even you gas BBQ or oven.
Adding a water pan to you smoker is important to help prevent any drying during the cooking process.
Low and slow is about visual & feel cooking just as important as timed cooking, be sure to take notice of feel and look so you can adjust if need be.