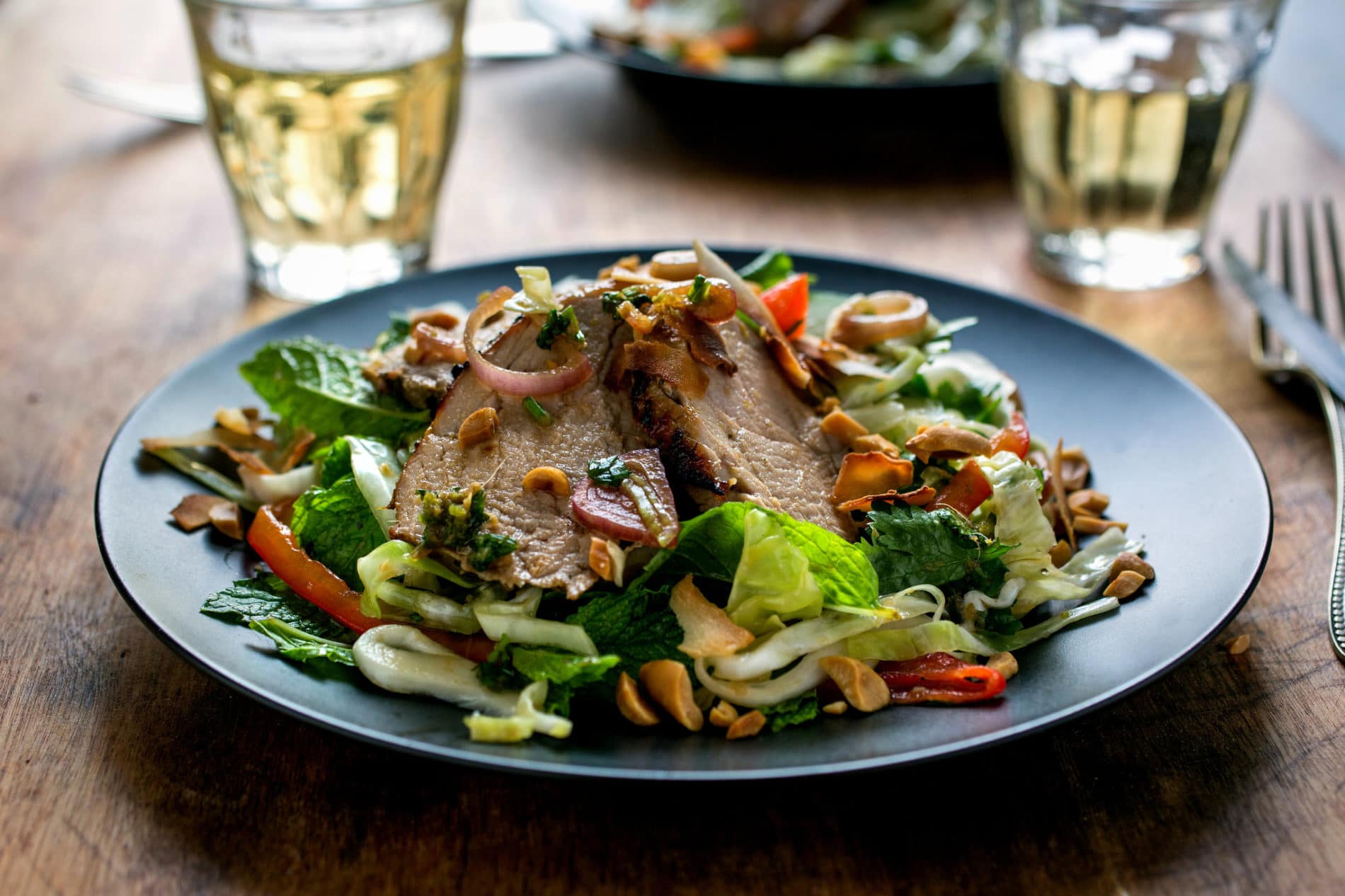 | | |
| --- | --- |
| Salad | Pork |
| 2 golden shallots, finely sliced | 2 pork tenderloins (sinew removed) |
| 3 green shallots, finely sliced | 50mls fish sauce |
| 10 fresh or canned lychees, peeled and deseeded | 30mls Whisky |
| 1 medium cucumber, cut into thin ribbons | 20mls dark soy |
| 1 carrot, finely sliced (julienned) | 1 x 2cm ginger root, peeled and finely sliced |
| 4cm ginger root, peeled and very finely sliced | 2 garlic cloves, peeled and crushed |
| 2 tbls toasted sesame seeds | 150g brown sugar |
| Coriander for (garnish) | 1 x lime, zest and juice of |
Preparing the pork
Place the ingredients into a saucepan, except the juice of the lime. Stir in well and bring to the boil, reduce the heat and simmer until slightly syrupy. Stir in the lime juice and allow to cool. When cool, marinate the pork in 1/2 of the caramel and set aside the remaining to pour over the end dish.
Salad method
Combine all the ingredients in a bowl and toss gently, leave the coriander and toasted sesame seeds out until plating.
Cooking and serving method
Sear the marinated pork in a lightly oiled hot pan until golden brown (approx 4-5min), then place in a preheated 180°C degree oven for 12 minutes. Once cooked rest the pork for 5 minutes. To plate, slice the pork into 2cm medallions, lay on a bed of salad and top with some of the remaining caramel. Garnish with toasted sesame seeds and coriander.
Top Tip
Add some heat to your dish by adding freshly sliced red chilli to the caramel sauce or salad.