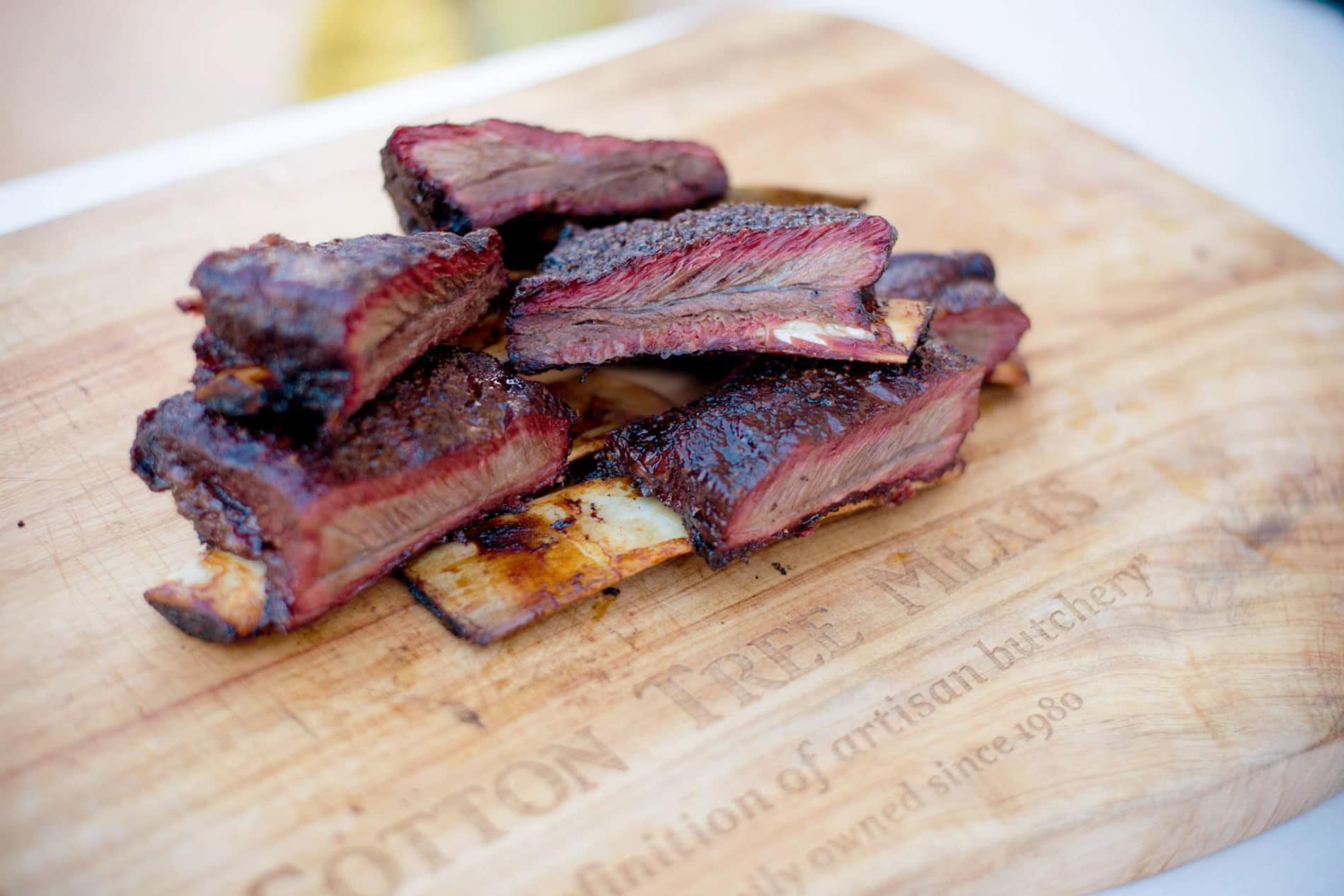 Smoked Beef Short Ribs are a personal favourite of mine they carry a very intense depth of flavour which comes from cooking on the bone. When cooking a beef shorty, you want to achieve a dark course bark around the outside, and a beef that melts like butter in the middle… that's when you know you just nailed some awesome beef ribs!
Beef short ribs are one of the most delicious cuts that work amazingly with low n slow cooking.  If you haven't noticed… here at Cotton Tree Meats, we love and specialise in these low n slow cuts! Make sure you check out the full range of low n slow content we have online:
Smoked Beef Short Ribs – Ingredients
Salt & Pepper
Spritz bottle – 50:50 water: apple cider vinegar
Pecan or ironbark wood
Charcoal or briquettes
Method
Score or remove membrane & trim the silver off the top of your beef ribs & season with salt & pepper top and bottom giving them an even coat. Put back in fridge for at least 1 hour before smoking.
Fire up your smoker aiming to set your temperature between 125°C – 140°C, add wood to create a nice even flow of smoke.
Place beef ribs in smoker bone side down and smoke for 6-9 hours, spritzing every 45 minutes, ensure you have a nice flow of smoke the whole time.
Once your beef ribs have reached an internal temperature of 94°C to 98°C pull and rest in foil for at least 45 minutes.
Tips
The same recipe can be used for gas smokers and pallet smokers

Spritzing your beef rib will control the bark on top this is a personal preference the less you spritz the heavier your bark will be.

You can also wrap you ribs in foil after the 4 hour mark if you would like to speed up the cook, this will soften your bark as well.  

Adding a water pan to you smoker is important to help prevent any drying during the cooking process.

Low and slow is about visual & feel cooking just as important as  timed cooking, be sure to take notice of feel and look so you can adjust if need be.