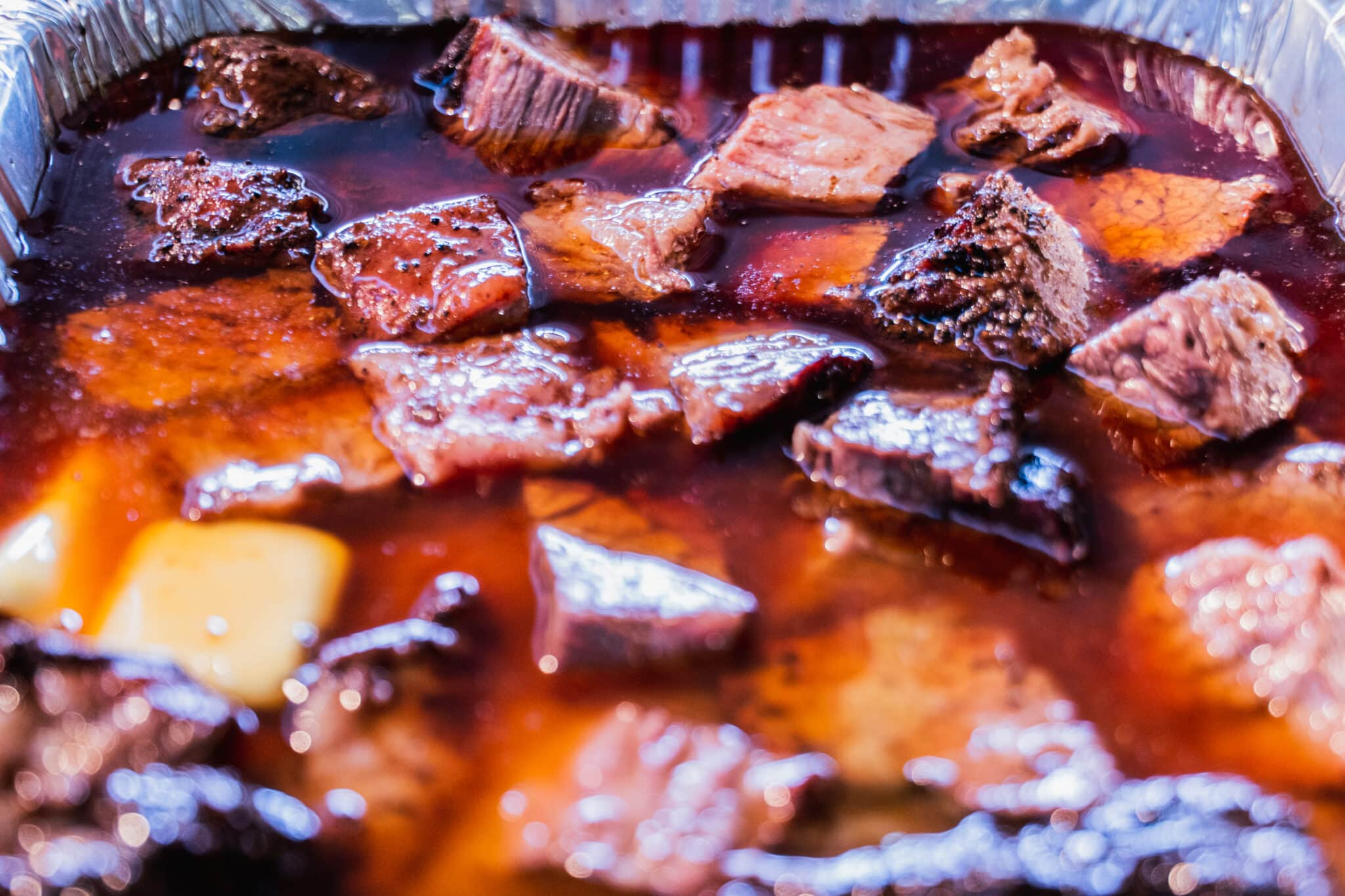 Ingredients
1 Brisket Half – Point End.
BBQ Seasoning
Beer
Method
Set your smoker to 130˚ C and rub your brisket in your BBQ seasoning.
Smoke the brisket for around 2.5 to 3 hours or until north of 65˚ C internal.
Wrap the point end tightly in foil and place back into the smoker until internal temperature is around 95C and it probes with little resistance (approx. 3hrs or internal of 95c).
Once it is has reached temperature remove the Brisket from the foil and place on a board for 15 minutes to rest. Make sure at this stage to retain the jus from the foil.
Cube the brisket into roughly 2cm cubes and place in a foil tray along with the retained jus and beer and seal tightly over the top.
Return the cubes in their tray to the smoker and increase temperature to 150C for approx. 1 hour.
Remove the cubes from the liquid and place them onto the wire rack.
Put them back in the smoker for a further 10 minutes to let the outside dry a little and serve straight away.
Tips & Tricks
Brisket is better cooked to feel rather than temperature which is just a guide. You are looking for a lack of resistance when pushing a probe into the brisket or what is termed as "a hot knife through butter' (step 4).
If you chose to, you can separate the point portion and the flat portion from the brisket half before cubing up by following the fat seam that divides the two muscles. It's much easier when it's cooked as the fat gives way very easily (step 5).
The brisket cubes should be almost submerged in the liquid to braise in (step 5).
If the braising liquid is not simmering after 30 minutes (step 6) increase the smoker temperature to ensure the liquid is simmering, meaning it will be braising the brisket cubes.