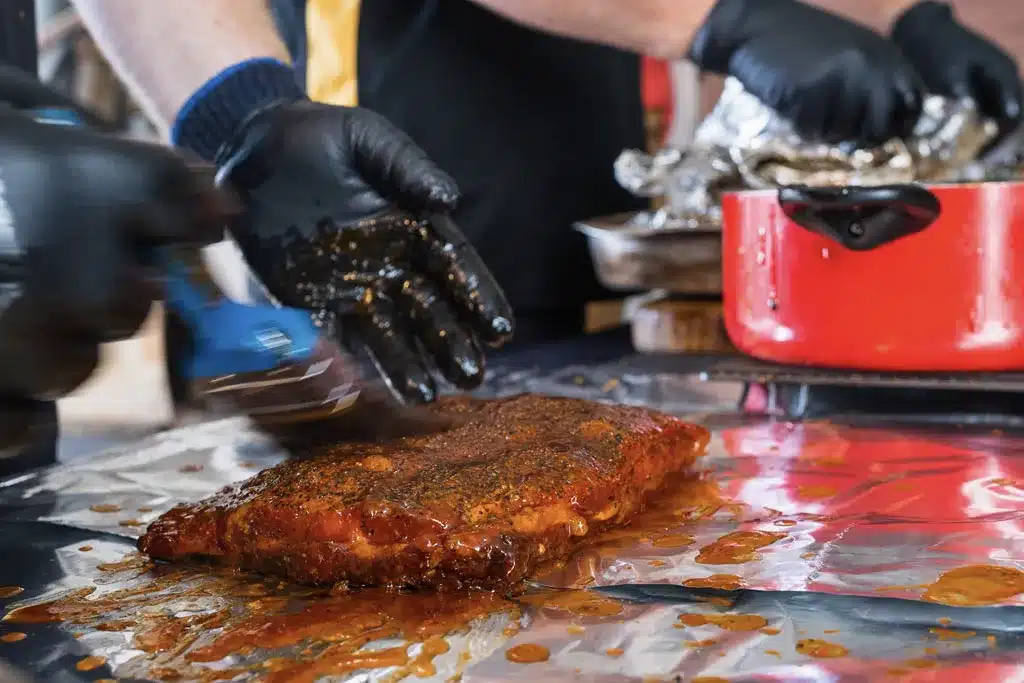 Savor the mouthwatering flavours of St Louis Pork Ribs from Cotton Tree Meats. This delightful recipe showcases a succulent rack of ribs, expertly seasoned with BBQ seasoning, slow-cooked in a smoker, and glazed with a tantalising BBQ sauce. With each bite, you'll relish the smoky, savoury goodness that will leave you wanting more. Prepare to impress your guests with these irresistible ribs that are sure to become an Aussie favourite at any gathering.

Ingredients
Rack of St Louis Pork Ribs
BBQ Seasoning
Butter
BBQ Sauce
Water
Method
Place ribs meat side down and diamond score the back membrane on the bone side.
Set your smoker to 130˚ C and rub the meat side of the ribs in BBQ seasoning, do not rub the bone side of the ribs.
Place the seasoned pork ribs into your smoker bone side down for 2hrs, or until the rub has set on the pork ribs.
Place BBQ sauce in a pot and add water to thin out the sauce and warm it up.
Remove the ribs from the smoker, with foil layed out, add a few good pinches of butter to the foil and place the ribs on top bone side down. Add a ladles worth of BBQ sauce and wrap them tight aiming to finish bone side down/meat side up folding the foil ends upwards and fold over.
Return the wrapped ribs to the smoker for approx. 1hr 45minutes, the finished product should be soft and tender with the meat still hanging onto the bone.
Remove the ribs and brush them with your BBQ sauce.
Put them back in the smoker for another 10 -15 minutes to set the glaze and serve straight away.
Tips & Tricks
We recommend to diamond score the membrane in favour of removing the membrane all together, its personal preference, but we find it makes no difference to the eating of the ribs (step1).
To check if the rub is set, lightly run your finger across the ribs, if the rub is easily removed, give it another 25 minutes, if your finger drags and only a few grains remove, they're ready to wrap (step 3).
Add water to thin out your BBQ sauce, add enough water so the sauce loosens or pours freely. Your aim is for it not to be gloopy (step 4).
The ribs should be soft before being removed, they should probe with very little resistance (step 6).
You only want the sauce to 'tack' up. Once its sticky to touch, they're ready (step 7).