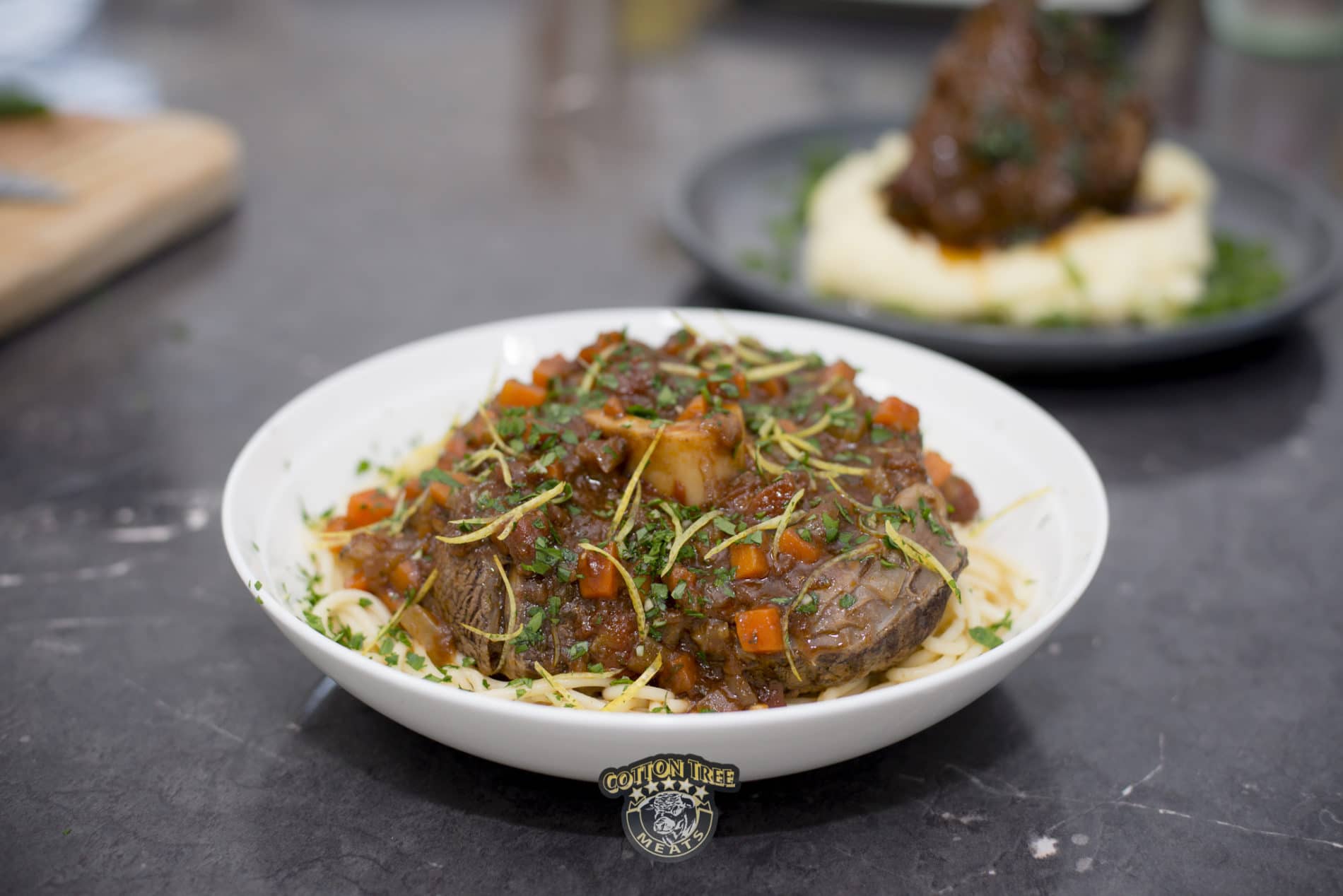 Looking for a delicious Osso Bucco Slow Cooker recipe? This Italian inspired recipe pairs the rich and hearty beef flavours with a fresh and zesty Gremolata which work amazingly together for an easy slow cooker recipe you'll love.
INGREDIENTS:
6 pieces of Osso Bucco
2 garlic cloves, finely diced
4 stalks of celery, finely diced
2 carrots, finely diced
2 brown onion, finely diced
Olive oil
2 tins diced tomatoes
4 sprigs of thyme, leaves of
1 cup white wine
2lt beef stock
Salt and ground black pepper
GEMOLATA:
1 lemon, zest of and very finely sliced or zested
1 cup parsley, finely chopped
1 garlic clove, finely sliced
METHOD:
Step 1) Start by seasoning the Osso Bucco with some salt and pepper, then in a large pan pour a lug of olive oil into the pan and start by browning the Osso Bucco over medium to high heat until you get some good colour, you will look around 5-8 minutes and you may have to do in batches.
Step 2) Once the Osso has been browned of well set aside, and by using the same pan with all the juices from the beef place in the onion, carrot, celery, garlic and thyme and a little salt, then stir over medium heat until the veg mix has softened and taken on all those flavoursome juices from the pan.
Step 3) by using your slow cooker, put all of the veg mix from the pan into the slow cooker and add in the stock, white wine and tins of tomatoes and give a good stir to combine well, then place in the Osso Bucco pieces, making sure the Osso is fully submerged in all the liquid, then set you slow cooker setting, to let blip away all day long.
Step 4) to make the gremolata combine the lemon, parsley and garlic all together in a bowl until well combined,
Step 5) once the Osso Bucco has been cooking away all day and it comes to plating, remove the pieces of Osso Bucco from the slow cooker and transfer the cooking liquid and veg mix to a large pan, and over medium heat let reduce by two thirds or until the sauce has a good consistency. To serve place down a nice bed of spaghetti pasta and put a piece of the Osso Bucco on top of the pasta bed and drown with a good amount of sauce over the top, then with the gremolata mix sprinkle all over the top of the final dish with a good drizzle of olive oil.
(this Osso Bucco slow cooker recipe is designed for a slow cooker, but if you're wanting to cook in a casserole dish follow the same steps but place into a 150 degree oven for 4-4.5 hrs with a lid on top instead)