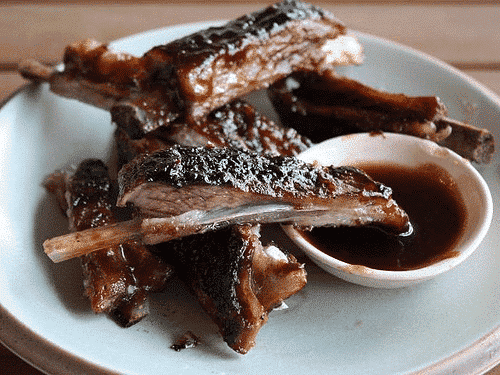 Lamb ribs YUM YUM YUM this dish for me showcases just how tasty lamb ribs truly are, a simple and easy version of flavours that gel so well together without losing the beautiful flavour of the lamb. The salad works so well as it helps cut through the richness of the ribs.
Serves 4
Ingredients
4 lamb rib racks

½ cup soy sauce

2 tbsp. minced garlic

1 tbsp. nigella seeds (toasted)

1 tbsp. cumin seeds (toasted)
Salad
2 avocados (diced)

¾ cup crumbled fetta

1 pomegranate

1 red onion (finely sliced)

Olive oil & red wine vinegar
Method
Preheat oven to 130°C, combined nigella and cumin seeds and grind down in a mortar and pestle, once crushed add the other ingredients and combine well. Marinate lamb ribs in the sauce.

Place the marinated lamb ribs on a trivet in a roasting pan, cook in oven for 4 hours.

To make the salad place avocados, fetta and pomegranate in a bowl. With the red onions soak them in some red wine vinegar for 20 minutes, once soaked strain the onions, remove the vinegar and combine to the salad, toss and combine well and dress the salad with the olive oil.

To serve plate the salad and either serve the lamb rib whole or sliced between the bones and serve individually.